And the winner is..
Slumdog Millionaire de Danny Boyle, avec pas moins de 8 oscars sur 10 nominations… Brad a dû aller se réconforter en allant s'enfourner des PITas avec Angelina…
D'ailleurs la guerre des (Benjamin) Button n'a pas eut lieu entre Jenni & Mme Jolie, point de crêpage de chignon, c'est couillon.
Comme pas de (félix) potin à conter, il ne reste plus qu'à admirer les tenues cendrillonnées des sublimes invitées, bien accessoirisées de la tête aux .. poignets.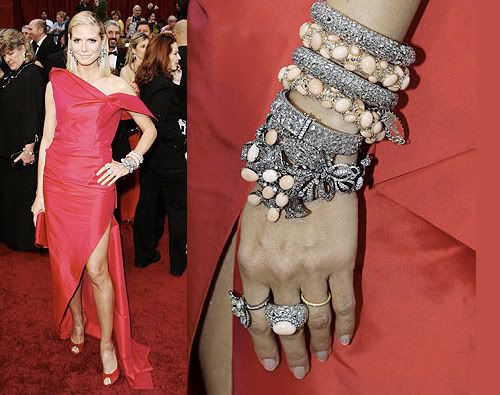 Pour ma part difficile de dire qui est ma préférée, même si je suis fan du bracelet vintage Van Cleef and Arpels de Marisa, par contre la plus mal sapée est sans conteste Beyoncé…
Et toi si t'étais conviée à fouler la rouge carpette, quelle tenue t'emballerais le plus mais sans Albal?….
Angelina jolie en Eli SAAB
Anne Hattaway en Armani
Beyonce en HOUSE OF DEREON
Heidi Klum en Roland MOURET
Jessica Biel en PRADA
Kate Winslet en YSL
Marisa Tomei en VERSACE
Miley Cyrus en ZUHAIR MURAD
Nathalie Portman en RODARTE
Penelope Cruz en BALMAIN vintage
Sarah Jessica Parker en DIOR
Vanessa Hudgens en MARCHESA

Demain à 10h, suite des Oscars ou presque, avec à la clef des invitations pour une avant-première…